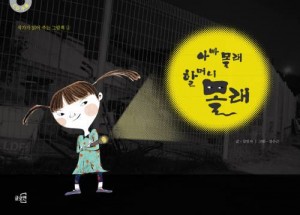 ---
Title

Avoid Telling Daddy and

Granny

Author

Inja Kim

Illustrator

Sugeun Sim

Composer

Hyun Kim

Pages

40

Date

Oct. 17, 2010

Size

330×218㎜

ISBN

9788992704250
Outstanding Book Award Winner (2011)
Book of the Year by Morning Reading Organization (2011)
Book of the Month by Publication Industry Promotion Agency of Korea
Endorsed by the School Librarian Association of Korea, Dongwon Book Club
---

Day by day, Daddy's car is full of used papers, boxes and newspapers. He drives away every night at 10 PM. Curious as to where he goes at this time of night, his daughter Mingi gets in the car unnoticed by her father. Upon arriving at a strange place, Daddy comes out and opens the door for granny to gather the used papers. Evidently, she sells them for her living.
Daddy retells this story at granny's place. His grandma, of whom he felt ashamed of because of her work, died when he was young. He was so repentant of harboring resentment that he decided to help granny with her livelihood. Hence, he visits granny every night and brings used materials for her to sell. Has granny noticed anything amiss? The sharp lightning in the sky will help you know the answer.
The illustrations work to bring this picture alive. The method used was so effective that the picture seem realistic. Readers from can also find a candy hidden on every opened side page. This makes reading all the more fun!